ユ-ハス研究室
研究室の紹介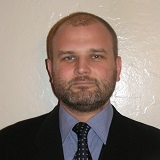 ユーハス 特任准教授
研究室名
ユーハス研究室(Juhasz Laboratory)
スタッフ
ユーハス ゲルゲリ (Gergely Juhasz) 特任准教授
(西4号館510号室/E-MAIL:juhasz@chem.)
※E-MAILにはtitech.ac.jpを付けて下さい。
研究内容
Computational Material Design
The recent development of methodology and availability of cheap hardware has led to a new era of Chemistry when theory can effectively help interpret experiments and design new materials. It became possible to simulate complex chemical behavior of large structures, like carbon nanotubes and nanoparticles, and make predictions about their electrochemical and spectroscopic properties, too.

Our recent research interest includes: (1) carbon nanotubes and carbon nanostructures; (2) spectroscopic and catalytic properties of transition metal compounds.

化学ー英語コース
Training a new generation of chemists and engineers is one of our most important tasks at the university. However, technical knowledge is not enough anymore: language and communication skills become more and more crucial among other professional skills.

We offer English language Chemistry lectures to Japanese and foreign students. These are regular Chemistry courses, equivalent to lectures in Japanese. If you are up the challenge, use this opportunity to practice and improve your English skills!